The Critical Steps of EMR Data Conversion
When replacing an EMR, it's a challenge to populate the new EMR with the patient data collected over years. It's often to re-enter the data manually due to the huge volume of date that needs to be converted. Patient care is the focus of a physician's office,  not the lengthy task of manually copying data from one system to another.
Caristix has developed a process to extract data from your legacy system, transform the data, and load it in the new EMR system database saving you time, cost and down time.
How this works: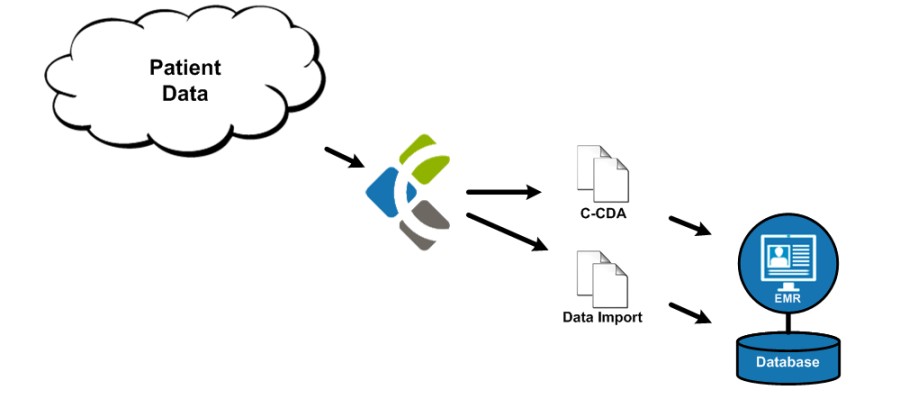 Step #1: Prepare
Depending on the legacy system and practice processes, we start with establishing a list of data elements to be converted. To do this we need access to patient data and the new system.
Step #2. Extract Patient Data
Patient data is usually stored in a database but can also be stored in other file formats such as PDF, Excel or others. Caristix can analyze the internal structure of EMR systems (our team of experts know most EMRs) and can extract the data and store it in a generic model. The generic model is customizable so it can adapt to the various data extraction requirements.  Scanned documents can be converted in the same way.
Step #3: Transform Data into the New EMR Compatible Format
Each EMR data format is different. However, a number of techniques can be used to make work easier and augment data quality.
Create C-CDA documents. Thanks to the Meaningful Use Phase II (MU2) initiative, most EMR systems can now import patient data through C-CDA documents. C-CDA is a standard sponsored by HL7.org defining a set of XML documents (including CCD) used to exchange data between EMRs. This approach, based on standards, is preferred when possible.
>> Using its productivity software, Caristix can generate C-CDA documents quickly from the extracted data. 
Create database loading scripts. For data that is not part of the C-CDA standard, database load routines can be built. 
Step #4: Test Patient Data Load 
We guarantee data quality. All data loads are tested in our test environment before its use in the new EMR system so everything goes smoothly during data import. 
Step #5: Load Patient Data 
Load data in the actual new environment.