Products
Software Solutions that Meet Your Integration Needs
Professional Services
Let Caristix Experts Be Your Solution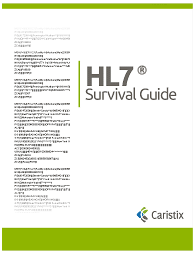 HL7, interfacing, interoperability.
Think it's all about the engine? Think again.
It's really about the data and the workflows.
The Survival Guide has been called "truly awesome
reading for a true practitioner."
See what the buzz is about.
Who's Who Customer List
Health system operating in 17 states

IDN with 36,000 employees

Fortune 500 HIT vendors

Many more

"With Caristix, we reduced 10 days of cycle time down to 5 hours."

- George McGivan, Sr. Technical Business Analyst
Fortune 20 firm providing revenue cycle management services and technology

"I've been cranking out files in 5 minutes
when it used to take me as much as 30 minutes to do the analysis."

- Bill Huff, Interface Team Lead
Large regional trauma center in Virginia

"Caristix saved me months of time and frustration. On top of that, the cost savings was significant. I was impressed and would enthusiastically recommend them to anyone looking at data porting and conversion!"

- Dr AJ Padilla, MD
Endocrinologist in private practice
Copyright © 2009-2018 Caristix. All rights reserved
HL7® is a registered trademark of Health Level Seven International. The use of this trademark does not constitute an endorsement by HL7.