Survival Guide for HL7® Interfacing and Interoperability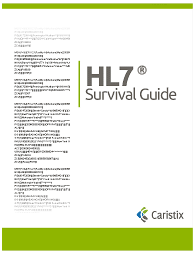 HL7® interfacing – you can't live without it but that doesn't mean you have to suffer as you work to connect the systems that make your environment hum along. This guide will help you get a firm grasp on all the challenges, standards, and choices you need to make along the way, whether you're developing interfaces on your own or working with a third party.
Why You Need the HL7® Survival Guide
HL7® interfacing is an ongoing, evolving process
Current pressures and forced integration are heavy drivers in the industry

Meaningful Use requirements
ICD 10 conversion

Numerous misconceptions exist about HL7® interfacing
Multiple layered, interoperability issues force constant adaption
Keep pace with HL7® standard definitions, issues and best practices
Take back control and simplify your daily professional life
Keep it handy as you're working on HL7® interfacing and you'll find that it eliminates many mind-numbing tasks so you can focus on the essential ones
Table of Contents
Looking for a specific chapter? Read it here.
Introduction
Chapter 1: How to Integrate and Exchange Healthcare Data
Chapter 2: Pros and Cons of Interfacing Capabilities
Chapter 3: The Heart of the Matter: Data Formats, Workflows, and Meaning
Chapter 4: How to Work with Vendors and Developing Your EHR Strategy
Chapter 5: Vendors, Consultants, and HL7® Interface Specifications
Chapter 6: Interfacing Artifacts: HL7® Conformance Profiles or Interface Specifications
Chapter 7: Interfacing Artifacts: Gap Analysis
Chapter 8: Interfacing Artifacts: Test Scenarios and Test Systems
Chapter 9: Interfacing Artifacts: Message Samples and Test Messages
Chapter 10: Process and Workflow
Chapter 11: Maintenance, Troubleshooting, and Monitoring
Chapter 12: Definitions
Chapter 13: Contributors and Resources